The heart of the Madrid Spain Masters
The first edition of this stop of the World Tour, which will take place in Madrid for another three years, came to an end. On Sunday afternoon all the material was collected, posters, signals, carpets and mats that for a week have dressed the indoor athletics track of Gallur with badminton.
It is a moment that is always lived with some relief at the end of the work, but also with some sadness. For more than a week, all the staff of the internal structure has lived and worked together as a single individual, and saying goodbye to those moments also leaves a slight aftertaste of melancholy.
This event has been in the making for more than six months, in which the Spanish and Madrid federations have worked side by side to get everything ready for athletes and spectators.
There have been 45 people among both entities who have managed to coordinate their talents and hard work weaving a safety net for the rest of the volunteers and collaborators. A team that becomes a family thanks to the same passion, badminton.
From the FOP team to the secretariat, through communication and all the Eventual staff, who have shaped every pixel of the big screen, rounding off this great show. Together, they have made this event shine, although they have also needed to deal with several setbacks that have took them hours of sleep more than once. Even so, they made it, the Madrid Spain Masters will return in 2024 with all the illusion in the world and a spectacular team.
And speaking of teams, we cannot say goodbye without recognizing the great work of the technical officials. Another elite team that has put their knowledge and good work at the service of this sport.
There have been 16 umpires from 13 different countries who have preserved the laws of badminton and have ensured that each match took place in the most suitable conditions so that the players could put the best of themselves on the mat. They are facilitators of the game, invisible but fundamental participants of this show.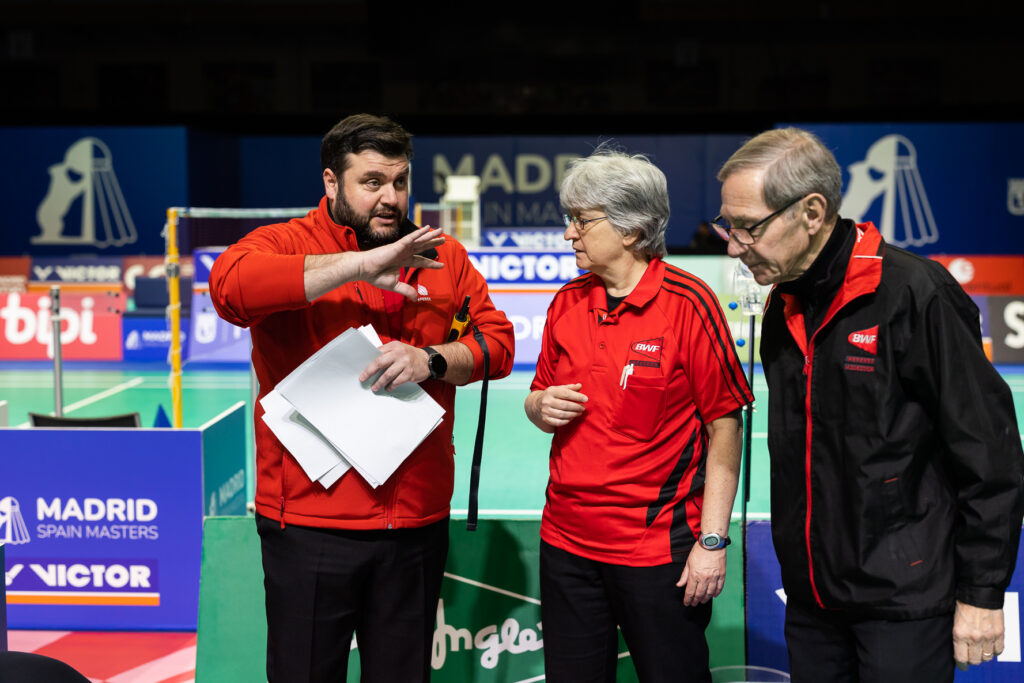 Leading this cast of great figures, the referee judges, who have not lost detail of all the incidents on the court and have accompanied the match control staff with the management of the casualties that have occurred in this edition. In addition, they have been vigilant to ensure compliance with the protocols and that no one got lost when entering the court.
Thanks to all of you for, once again, giving the best of yourselves and showing that Spanish badminton goes far beyond what is seen on the mat.