The third day of the tournament kicks off with the level rising exponentially. Every match is a final, and all the athletes want the victory for their own.
After the stellar debut of Carolina Marin yesterday, the fans are eager to see the next encounter of the player from Huelva. They will have to hold their breath until the ninth round of the day. Fortunately, there will be plenty of great athletes to satisfy their thirst for badminton at the highest level.
Some outstanding clashes will be Christo Popov (France) against Koki Watanabe (Japan) or the mixed between Christiansen-B∅je (Denmark) and the Chinese Cheng-Chen.
Competition schedule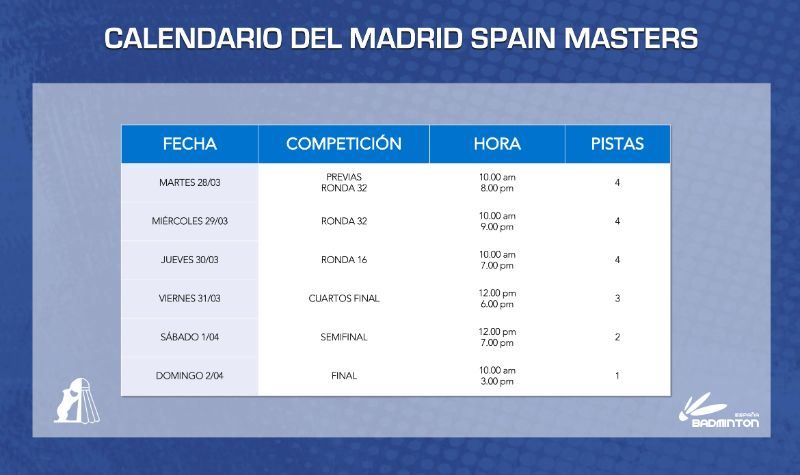 However, Clara Azurmendi and Carolina Marin will clearly be the ones to catch the audience's attention. Clara will face the American Beiwen Zhang and Carolina, a little later on court one, will also face the Indian Malvika Bansod.
On Thursday 30th at 10:00h, the matches of the round of the last 16 will start and they will continue until 19:00h.
Friday is the last day to watch the tournament without buying a ticket. It is the quarter finals day and they will be played from 12:00h until 18:00h.
The weekend will bring us the semifinals, which will be played on Saturday from 12:00h to 19:00h. Sunday will be reserved for the finals, which will be held from 10:00h to 15:00h.