Schedule and where to watch the Madrid Spain Masters
Second day beguins! The competition starts at Gallur Sports Centre this Wensday at 10:00h and can be followed live on the Badminton World Federation's YouTube channel.
On this second day of the Madrid Spain Masters, we will see the most famous players like Carolina Marin (Spain), Anders Antonsen (Denmark) or Pusarla B Shindu (India).
It is worth remembering that access is free until Friday, for semifinals on Saturday and finals on Sunday you just have to buy the tickets.
All the information about the competition can be followed on the official social networks of the Madrid Spain Masters on Instagram, Twitter and Facebook.
Competition schedule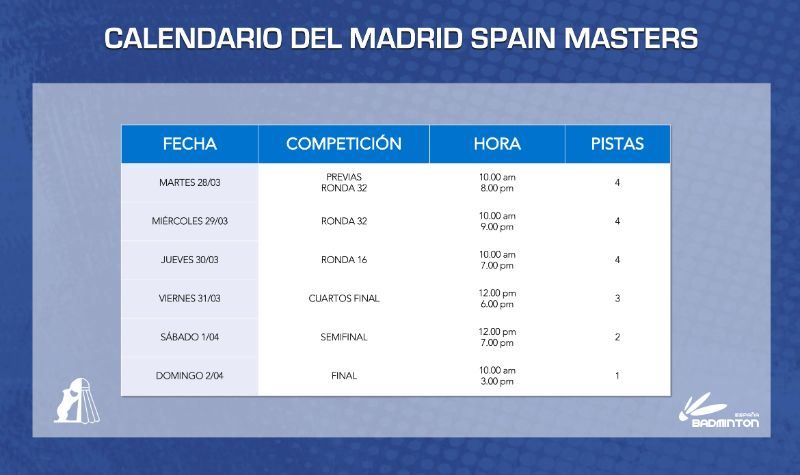 Wednesday will be the day on which the round of the last 32 will be completed and also the day on which Carolina Marín, Clara Azurmendi and Kike Peñalver will make their debuts at the Madrid Spain Masters. This day will be the most intense, as it will start at 10:00h and finish at around 21:00h.
On Thursday 30th at 10:00h the matches of the round of the last 16 will start and they will last until 19:00h.
On Friday, the last chance to watch the tournament for free, the quarter finals will be played from 12:00h until 18:00h.
The weekend will bring the semifinals, which will be played on Saturday from 12:00h to 19:00h. Sunday will be reserved for the finals, which will be held from 10:00h to 15:00h.