Everything ready to start the Madrid Spain Masters
An event like the Spain Masters is much more than what you can see on the BWF youtube streaming, or what you can experience at the Gallur Sports Centre.
It takes a long time to start managing everything, sponsorships, collaborations, ordering all the necessary material, looking for the necessary human resources…
Every detail is important and adds up to the event so the more than 200 registered athletes can give their best performance on court. There are more than 50 staff members in charge of creating the atmosphere for the action of this World Tour. However, they are not alone, two hundred volunteers recruited by the Madrid Badminton Federation will give their time and energy to make everything run like the clockwork of Puerta del Sol.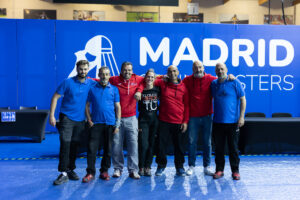 All these human resources will be at the service of a tournament in which 4 mats have been installed and will be broadcasted live on the Badminton World Federation's Youtube channel. Don't miss a single detail on the event's social networks on Facebook, Twitter and Instagram.