As we are about to start the engines of the World Tour 2023 in Madrid, we unveil some of the new features that we will be able to enjoy.
The first is a screen of more than 15 metres that will raise the level of the show at the Gallur sports centre from March 27th to April 2nd. This screen, together with the general screen, will offer our visitors a more complete perspective, and a light and sound show that will not easily be forgotten.
The audience visiting the hall will also be able to enjoy many activities in the fan zone, experiencing the world's fastest racket sport up close.
When we talk about entertainment we cannot leave behind the athletes, who will be able to enjoy a unique experience with a photocall 360º, a challenge area where they can test their skills and another 360º camera to capture special moments of the event.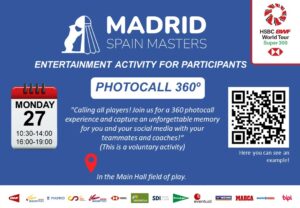 This tournament also wants to contribute to reduce the carbon footprint, so small water tanks have been installed throughout the hall to provide the athletes and members of the organisation. With this gesture, more than 130 kg of plastic will be saved, which translated into a carbon footprint means saving enough CO2 to cover the CO2 emissions of a flight from Madrid to Helsinki (4h30′ flight).
The Spain Masters lands in Madrid with strenght to close with a flourish a month full of the best badminton in the world. Are you going to miss it?